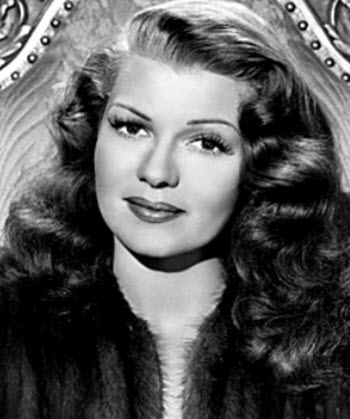 The glamorous actress, dancer and pin-up model Rita Hayworth (1918-1987) was one of the top U.S. movie stars of the 1940s, and the press referred to her as "The Love Goddess". During World War II, she was one of the most famous pin-up girls for Gis.
One of her most iconic roles is that of the femme fatale Gilda Mundson Farrell in the 1943 film noir Gilda, where she plays against Glenn Ford. Another great Hayworth success is the Technicolor musical Cover Girl (1944) with Gene Kelley. This was the first film collaboration of Jerome Kern and Ira Gershwin.
All in all, Hayworth appeared in over 60 films throughout her 37 year long movie career. She is included in the American Film Institute's list of Top 25 Female Motion Picture Stars of All Time. In addition to her acting skills, she was an exceptionally skilled dancer, adept in everything from ballroom and classic Spanish routines to ballet and tap.
"Everybody else does nude scenes, but I don't. I never made nude movies. I didn't have to do that. I danced. I was provocative, I guess, in some things. But I was not completely exposed." – Hayworth in a 1980s interview.
Short facts about Rita Hayworth
Name
Margarita Carmen Cansino
Stage names
Rita Cansino

Rita Hayworth

Birth
October 17, 1918

in Brooklyn, New York City, USA

Profession
Actress

Dancer

Professional years
Dancing: From 1923

Acting: 1934-1972

Husbands

Edward C. Judson
(married 1937–1942)
Orson Welles
(married 1943–1947)
Prince Aly Khan
(married 1949–1953)
Dick Haymes
(married 1953–1955)
James Hill
(married 1958–1961)

Children
Rebecca Welles (1944-2004)

Princess Yasmin Aga Khan (born 1949)

Death
May 14, 1987 (aged 68)

in Manhattan, New York City, USA

Grave site
Holy Cross Cemetery, Culver City, California, USA
Early life
Margarita Carmen Cansino was born in 1918 in Brooklyn, New York City. She was the first child born to the two dancers Eduardo Cansino and Volga Hayworth. Eventually, she got two brothers: Eduardo Cansino, Jr and Vernon Cansino.
Eudardo Cansino was a Spanish immigrant from Castilleja de la Cuesta, a town not far from Seville. His father was a renowned classical Spanish dancer who helped popularize the bolero.
Volga Hayworth was born in the United States and of Irish-English descent. She had appeared in the Ziegfeld Follies and was a popular showgirl on Broadway.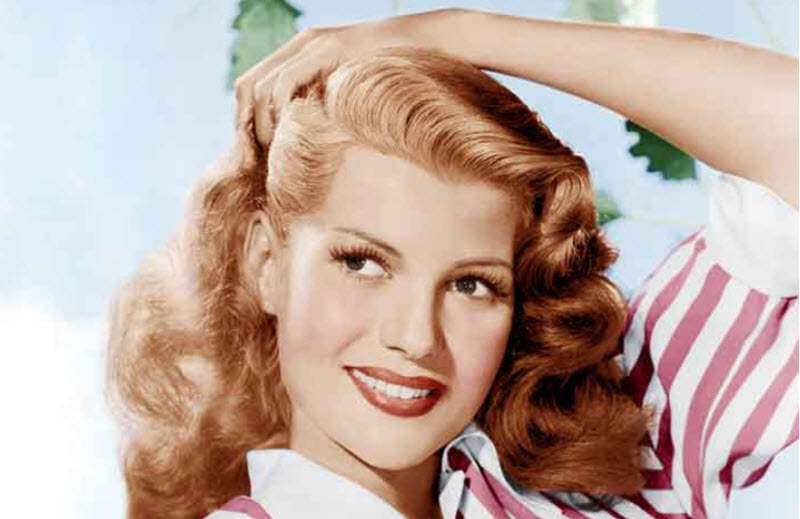 Dancing
Together, Volga and Eduardo performed with the vaudeville act "The Dancing Cansinos", and they taught their daughter Margarita to dance as soon as she could stand up. She also received dance classes from her paternal uncle Angle Cansino in a Carnegie Hall complex. Before she had turned 5, she was performing on stage at Broadway as one of the Four Cansinos with her parents and uncle.
In 1926, when she was just 8 years old, she could be seen in La Fiesta, a short film for Warner Bros.
From Broadway to Hollywood
In 1927, the family moved to Hollywood since Eduardo believed that dancing had a future in the movie industry. He established dance studio and taught stars such as James Cagney and Jean Harlow, but the studio seized to be profitable during the Great Depression.
In 1931, Eduardo and Margarita began performing as a duo. The 12-year-old Margarita was too young to legally work in nightclubs and bars in California, so they performed in Tijuana instead, on the other side of the Mexican border. Even back then, Tijuana was a popular destination for people from Los Angeles who wanted to party.
Margarita completed 9th grade at Hamilton High in Los Angeles, but did not graduate from high school since she was working instead.
First appearances on the silverscreen
In 1934, the 16-year-old Margarita Cansino did a bit part in the movie Cruz Diablo. This led to another bit part in In Caliente (1935).
One night Winfield Sheehan, head of the Fox Film Corporation, took notice of Margarita when she was dancing at the Caliente Club, and he arranged for her to do a screen test the next week. She did well on the test, and signed a 6-month contract with Fox – as Rita Cansino.
At Fox, she started out with small and unremarkable roles and was type-casted as the exotic foreign woman. One of the early roles was a dance sequence in the Spencer Tracy movie Dante's Inferno (1935).
First speaking role
Her first speaking role was in Under the Pampas Moon (1935) where she played an Argentinian girl.
Columbia Pictures
Rita Casino's contract with Fox (now 20th Century Fox) was not renewed.
She met the promoter Edward C. Judson, who became her promoter and eventually also her husband. He arranged work for her with several small studios, and a role Columbia Pictures' Meet Nero Wolfe (1936) .
At Columbia Pictures, she signed a 7-year contract, and studio head Harry Cohn started trying her out in small roles. He was the one who suggested that she should get a stage name that sounded less Spanish to avoid being type-cast as exotic. Rita Cansino thus started using her mother's maiden name as her stage name, and became Rita Hayworth. She also died her hair dark red and had electrolysis done to raise her hairline.
Only Angels Have Wings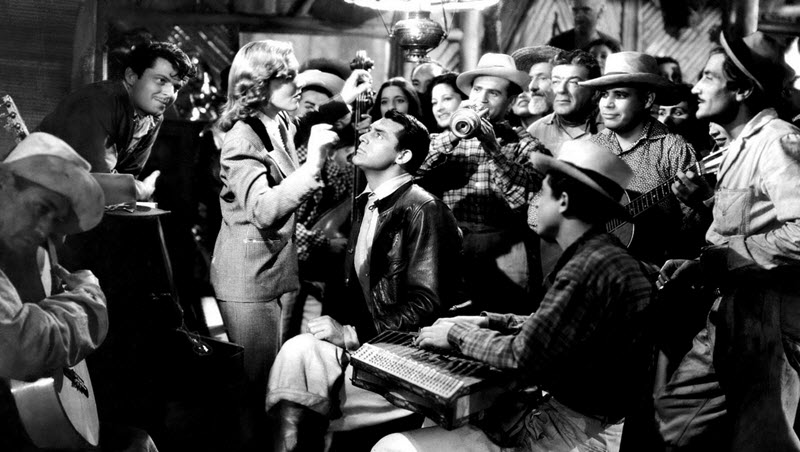 After several minor appearances in movies, she landed the small but important role as Judy MacPherson in Only Angels Have Wings (1939), a film starring Cary Grant and Jean Arthur. The film was a big success and the audience took notice of Hayworth. Soon, fan mail for the young actress began to arrive to Columbia from all over the country.
The Strawberry Blonde
In 1941, Hayworth appeared in another big box-office success: The Strawberry Blonde where she had the second female lead, playing opposite James Cagney. By now, she was firmly established as one of Hollywood's hottest actresses. Warner Bros tried to buy her from Columbia, but was turned down.
Blood and Sand
1941 was also the year when Blood and Sand premiered, where we can see Hayworth in one of her most notable roles, the one as the seductive Doña Sol des Muire. This was a movie produced by Fox, the same company that had dropped her earlier.
You'll Never Get Rich (1941) & You Were Never Lovlier (1942)
Hayworth was paired with Fred Astaire for the musical You'll Never Get Rich (1941) – one of the highest-budgeted films Columbia had ever made. Fortunatelly for Columbia, the movie turned out to be a great success with the movie-going public, and the wheels were quickly set in motion to create the follow-up You Were Never Lovlier (1942).
When Fred Astaire was asked who his favorite dance partner was, he tried to dodge the question, but later in life he would admit that it was Hayworth – even though he made 10 films with Ginger Rogers.
---
Do you want to be rich?
You'll Never Get Rich was a big hit for Hayworth and Columbia.  Luckily the title does not have to be true for you. Binary options allows you the chance to earn money by investing small amounts.  A skilled trader can earn a lot.  Please allow yourself plenty of time to learn how to trade using a demo account before you start trading using real money.  Way too many people start trading before they are ready, before they know enough.  If that is you then You'll Never Get Rich!!
---
Peak years at Columbia
For three consecutive years, starting in 1944, Hayworth was named on of the top movie box-office attractions in the world.
Here are a few examples what she was doing in those years:
The musical Cover Girl (1944)Hayworth had top billing, and this is one of her best-known films. It also made her the first woman to have danced on screen with both Gene Kelly an Fred Astair.
Tonight and Every Night (1945)Technicolor film with Lee Bowman. A major highlight of the movie is Hayworth in the "You Excite Me" number, often cited as one of her best performances.
Down to Earth (1947)A musical comedy starring Rita Hayworth, Larry Parks, and Marc Platt, and directed by Alexander Hall.
Gilda (1946)
For many of her fans, Hayworth's performance as Gilda in Charles Vidor's film noir is her absolute best. Her iconic one-glove striptease to "Put The Blame on Mame" is astonishing, but her sexy and glamorous take on the role naturally cause some consternation among the censors.
While Gilda was in release, it was reported that an atomic bomb adorned with the image of the "bombshell" Hayworth was about to be tested at Bikini Atoll in the Pacific Ocean. Hayworth was very much against it, and wanted to go to Washington and hold a press conference, but was held back by the studio as it would have been considered unpatriotic to protest. The fourth atomtic bomb ever to be detonated was thus adorned with an image of her cut from the June 1946 issue of Esquire. Above it, the name GILDA was written in big black etters.
The Lady from Shanghai (1947)
The film was a box-office failure, but Hayworth recived a lot of praise from critics for her performance. The audience did not like that Hayworth's trademark red hair had been cut short and bleached blonde.
The Loves of Carmen (1948)
The first movie co-produced by Columbia and Hayworth's own production company, The Beckworth Corporation. The movie became Columbia's largest moneymaker for the year.
Later career
Examples of movies and tv-shows that she appeared in during the 1950s – 1970s.
| | | |
| --- | --- | --- |
| Year | Titel | Role |
| 1952 | Affair in Trinidad | Chris Emery |
| 1953 | Salome | Princess Salome |
| 1953 | Miss Sadie Thompson | Sadie Thompson |
| 1957 | Fire Down Below | Irena |
| 1957 | Pal Joey | Vera Prentice-Simpson |
| 1958 | Separate Tables | Ann Shankland |
| 1959 | They Came to Cordura | Adelaide Geary |
| 1959 | The Story on Page One | Josephine Brown/Jo Morris |
| 1961 | The Happy Thieves | Eve Lewis |
| 1964 | Circus World | Lili Alfredo |
| 1965 | The Money Trap | Rosalie Kenny |
| 1966 | The Poppy Is Also a Flower (TV) | Monique Marko |
| 1967 | The Rover | Aunt Caterina |
| 1968 | The Bastard | Martha |
| 1970 | Road to Salina | Mara |
| 1970 | The Naked Zoo | Mrs. Golden |
| 1971 | The Carol Burnett Show (TV series) | Herself |
| 1971 | Rowan & Martin's Laugh-In (TV series) | Herself |
| 1972 | The Wrath of God | Señora De La Plata |