Jayne Mansfield (1933-1967) was a an actress, singer and pin-up model, and one of the early Playboy Playmates. In the 1950s and 1960s, she was one of the main Hollywood sex symbols.
Her acting career was fairly short, but contained several box-office successes and she was awarded Theatre World Award and a Golden Globe. Her very first appearance on the big screen was a supporting role in Female Jungle, a low-budget drama that was released unofficially in early 1955.
A few examples of larger movies in which she appeared are The Girl Can't Help It (1956), The Wayward Bus (1957), and Too Hot to Handle (1960). She played Rita Marlow in the 1955-1956 Broadway production of "Will Success Spoil Rock Hunter?", and when it was turned into a Hollywood movie she was casted to repeat her role.
With the 1963 movie Promises! Promises! Mansfield became the first major United States actress to have a nude starrring role in a Hollywood motion picture. The film was banned in Cleveland, Ohio, but became on of the Top 10 box-office attractions of the year in the United States.
Mansfield's life was cut short when she died in a car collision in 1967, aged 34.
Examples of pin-up and promotional pics with Mansfield:
Her natural hair color was dark, but she became famous as one of Hollywood's "busty blonde bombshells"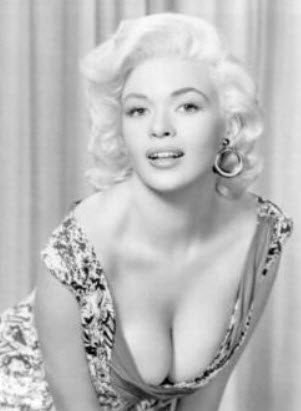 Mansfield in an animal print bikini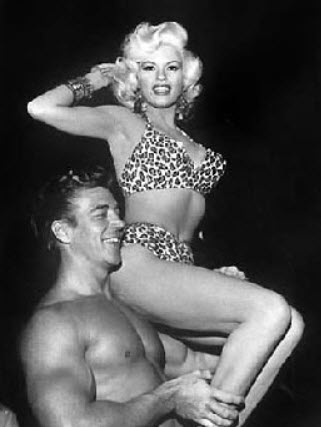 Mansfield in a pool surrounded by a myriad of dolls that look like her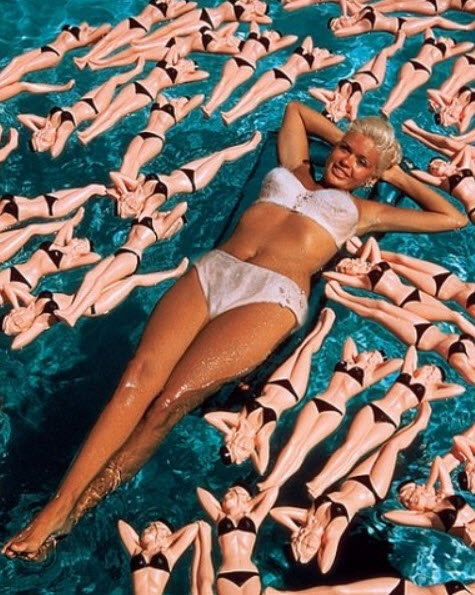 Promotional material for Promises! Promises!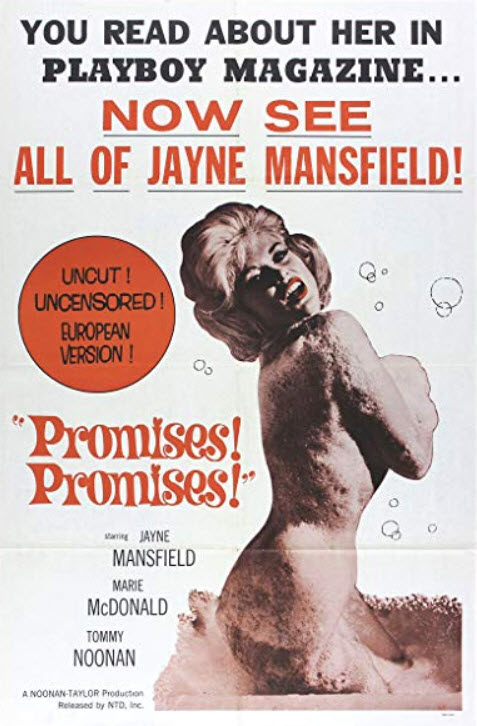 Playboy
In January 1955, Mansfield purposefully wore a too-small red bikini during a movie promotion press junket, and when she dove into the pool the top part predictably came off, giving her a whirlwind of media attention.
The publicity surrounding the "wardrobe malfunction" led to Playboy offering her to model for the magazine, and she became the Playmate of the Month for February 1955. This turned out to be beneficial for both Playboy and Mansfield, and she returned to do a hand-bra photo for the Playboy Calender.
Mansfield appearing in the February issue of Playboy became a tradition that was kept up from 1955 to 1958, and then again in 1960.
The June 1963 issue of Playboy featured nude photographs of Mansfield from the set of Promises! Promises!, which resulted in Hugh Hefner being charged with obsecenity in the Chicago Municipal court.
About Jayne Mansfield
Name
Vera Jane Palmer

Vera Jayne Palmer

Vera Jayne Mansfield

Stage name
Jayne Mansfield
Birth
April 19, 1933

in Bryn Mawr, Pennsylvania, USA

Education
Southern Methodist University

University of Texas at Austin

University of California, Los Angeles

Profession
Actress

Singer

Pin-up model

Professional years
1950s – 1967
Husbands
Paul Mansfield
Married in 1950, divoriced in 1958

Miklós Hargitay

Married in 1958, divoriced in 1964

Matt Cimber
Married in 1964, divoriced in 1966

Children
5
Death
June 29, 1967

in Eastern New Orleans, Louisiana, USA

Grave site
Fairview Cemetery in Pen Argyl, Pennsylvania