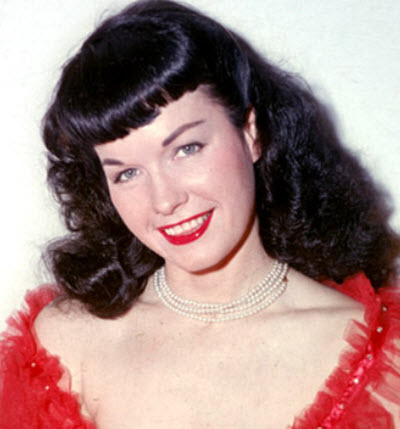 Bettie Page (1923-2008) was a New York City-based pin-up model, actress and burlesque dancer active in the 1950s. Some of her pics were classic pin-up style, while others featured BDSM themes. Although she sometimes posed for nude pics, she did not do sex-scenes or otherwise explicitly sexual content.
Page earned several monikers during her short but productive modelling career, including Queen of Pinups, Queen of Curves and The Dark Angel. In 1955, she won the title Miss Pinup Girl of the World. Her dinstinctive style – jet black hair with a fringe, bright red lips, seamed stockings, and snub-nosed six-inch stilletoes – has been homaged over and over again by later artists, such as Katy Perry, Dita von Teese and Madonna.
The highest-selling photograph of Page is a still taken by Irving Klaw during the filming session for Leopard Bikini Bound. It shows Page gagged and bound in a web of ropes.
Other examples of well-known pics of Page is the 1954 series taken of her at the wildlife park Africa USA in Boca Raton, including some nude pics where she is posing with two cheetahs, and photographs where she is wearing a leopard-patterned Jungle Girl outfit that she had made herself.
About Bettie Page
Name
Bettie Mae Page
Stage name
Bettie Page
Birth
April 22, 1923

in Nashville, Tennessee, USA

Education
Hume-Fogg High School

Pebody College (of Vanderbilt University)

Multnomah University

Profession
Pin-up & BDSM model

Actress

Burlesque dancer

Professional years
The 1950s
Husbands
Billy Neal

Married in 1943, divorced in 1947. (Very briefly remarried in the 1960s for practical reasons.)

Armond Walterson

Married in 1958, divorced in 1963

Harry Lear

Married in 1967, divorced in 1972

Death
December 11, 2008 (aged 85)

in Los Angeles, California, USA

Grave site
The Westwood Village Memorial Park Cemetery in Los Angeles
Modeling career
Early work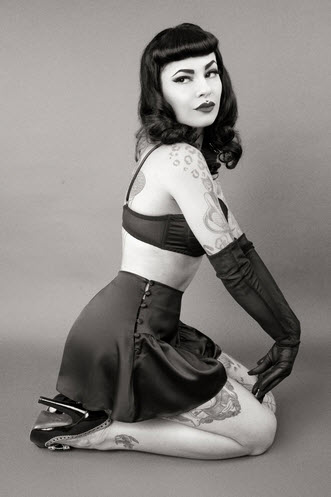 Bettie Page moved to New York City in 1949, hoping to find work there as an actress. After meeting the NYPD Officer and photographer Jerry Tibbs, she was introduced her to the world of "camera clubs". Officially, these clubs existed to promote artistic photography, but in reality, they were fronts for production of erotica / pornography.
Tibbs was the one who suggested the hairstyle with bangs, which would quickly turn into an integral part of Page's "trademark" look. His reasons were practical rather than aesthetic; he wanted to reduce the risk of light reflecting off Page's high forehead during photo sessions.
Page became a popular club model, and by 1951, images of her were published in men's magazines such as Eyefull, Beauty Parade, Titter, and Wink.
Working with Irving Klaw
In 1952-1957, Page worked with photographer Irving Klaw, doing both photographs and short 8mm and 16 mm films. In addition to the run-of-the-mill pin-up products, Page also did BDSM work. Before long, she became the top pin-up model in New York.
The short films, which were in black-and-white, were tailor-made based on specific requests from individuals. Examples of recurring themes were women dressed in lingerie and high heels engaged in domination/submission or acting out abduction scenarios. In some films, the women wore elaborate leather costumes and utilized fanciful restraints. Page can be seen acting in both types of roles; sometimes being the harsh dominatrix and sometimes the submission slave or helpless abductee. Interestingly, the films did not feature nudity or explicit sexual content.
Stage & Screen
In 1953, Page took acting classes at the Herbert Berghof Studio, which eventually landed her roles both Off-Broadway and in television. Off-Broadway, she appeared in productions such as "Time is a Thief" and "Sunday Costs Five Pesos", while the TV audience could see her in "The United States Steel Hour" and "The Jackie Gleason Show".
Page also acted and danced in the burlesque revue films "Striporama", "Teaserama" and "Varietease", which just like her earier work was risque but without nudity or explicit sexual content.
The Jungle Bettie photographs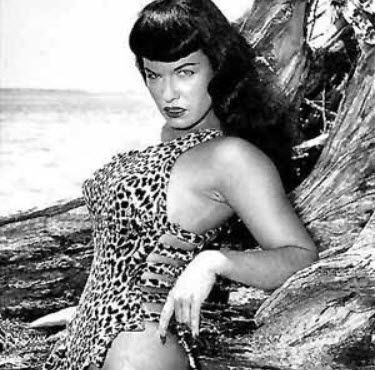 While vacationing in Miami, Florida in 1954, Page met Linnea "Bunny" Yeager who signed her for a photo session at the wildlife park Africa USA in Boca Raton, Florida. The Jungle Bettie photographs taken during this session would go on to be some of Page's most celebrated. In some of them, Page can be seen wearing a leopard patterned Jungle Girl outfit that she made herself, and she also made some of the lingerie featured in the photographs. Page also posed for nude shots in the park, including nude shots with a pair of cheetahs.
Playboy
Bunny Yeager sent some photographs of Page to Hugh Hefner who selected one for the Playmate of the Month centerfold for the January 1955 issue of Playboy. Back then, the magazine was just two years old.
Despite it being January, the photograph is Christmas themed and shows Page kneeling before a Christmas tree holding an ornament and wearing only a Santa hat.
Half a century later, Hefner would describe Page as " | … | a remarkable lady, an iconic figure in pop culture who influenced sexuality, taste in fashion, someone who had a tremendous impact on our society". (Associated Press in 2008).
Retirement
Page retired from modelling after 1957 and converted to born-again Christianity in 1959.
Revival of public interest
In the 1970s, there was a renewed interest in Bettie Page pictures, and several artists included images of her in their art. Compilations of old photos were published, and in the 1980s a cult following emerged – without her knowledge since she was battling paranoid schizophrenia. The 1980s revival was chiefly focused on her pin-up modelling rather than the BDSM work.