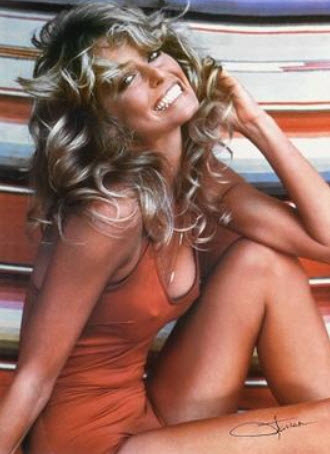 Farrah Fawcett was an actress, artist and pin-up model. In her modelling career, she rose to international fame with an iconic 1976 poster where she was wearing a red swimsuit that allowed the shape her erect right nipple to protrude in a very noticeable fashion while still being fully covered by the swimsuit material.
About Fawcett's iconic swimsuit pin-up pic
In 1976, post company Pro Arts Inc co-founder Ted Trikilis was planting trees on his apple farm when one of his neighbor's kids mentioned buying women's magazines to get pictures of a blond beauty named Farrah Fawcett. This caugth Trikilis attention, and he got hold of Fawcett's agent to pitch the idea of a bikini poster. Fawcett agreed to do the shoot, but insisted on a one-piece swimsuit instead of a bikini, since she wanted to hide a scar on her stomach.
A photo session was arranged with photographer Bruce McBRoom. Fawcett styled her own hair and did her own makeup. After the session, Fawcet was presented with 40 rolls of film, from which she selected her six favorites. From these six, the choice was narrowed down to the one that would become the best-selling poster in poster history.
The poster was released around the same time as the TV series Charlie's Angels, starring Fawcett as one of the angles. With its trailblazing nipple, it went on to sell a record-breaking 20 million copies, a number previously unheard of in the poster industry. The media dubbed it "The Farrah Phenomenon".
About Farrah Fawcett
Name
Ferrah Leni Fawcett
Stage name
Farrah Fawcett

Farrah Fawcett-Majors

Birth
February 2, 1947

in Corpus Christi, Texas, USA

Education
W.B. Ray High School in Corpus Christi

University of Texas

Profession
Actress

Pin-up model

Artist

Professional years
1969-2009
Husband
Lee Majors

Married in 1973, divorced in 1982

Children
1
Death
June 25, 2009 (aged 62)

in Santa Monica, California, USA

Grave site
Pierce Brothers Westwood Village Memorial Park and Mortuary, Los Angeles, California, USA
Ferrah Leni Fawcett, known by her stage names Farrah Fawcett and Farrah Fawcett-Majors, began her career as an actress by appearing in commercials and television guest roles in the late 1960s. In 1969, she played Patricia in the French romantic drama film Un homme qui me plaît (English titel: Love Is a Funny Thing).
During the first half of the 1970s, she appeared in TV-series such as Harry O and The Six Million Dollar Man. Her big breakthrough came in 1976, when she starred in the first season of the television series Charlie's Angles, playing the angel Jill Munroe. For this role, she became a houshold name and recieved her first Golden Globe nomination.
Fawcett also did movies in the 1970s, such as Myra Breckinridge (1970), Logan's Run (1976), and Sunburn (1979).
In the early 1980s, Fawcett recieved positive reviews for her performances Off-Broadway, where she had a role in the play Extremities. When the play was turned into a movie, she worked in that one too and recieved a Golden Globe nomination. Other examples of 1980s movies in which we can see her are Saturn 3 (1980) and The Cannonball Run (1981).
The 1980s was also a period when Fawcett appeared in several TV movies, such as The Burning Red and Small Sacrifices. Her most memorable role in the following decade was Jessie, the adulterous wife of a charismatic Pentecostal preacher in the movie The Apostle (1997).
In the 2000s, Fawcett had recurring roles in TV-series such as Spin City and The Guardian, and she also appeared in the romantic comedy Dr. T & the Women, playing opposite Richard Gere.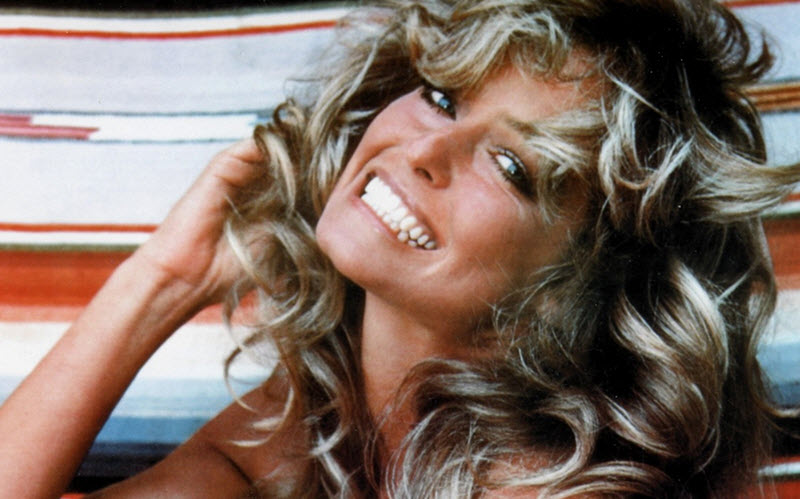 Accolades, legacy and cultural impact
Fawcett was nominated for six Golden Globe Awards and four Emmy Awards.
The song Midnight Train to Georgia, by songwriter James Dawn "Jim" Weatherly, was inspired by Fawcett and her husband Lee Majors.
Andy Warhol created two portraits of Fawcett when they met in 1980. Fawcett later loaned them to The Andy Warhol Museum.
In 1996, she was ranked No. 26 on TV Guide's "50 Greatest TV stars of All-Time".
In 2011, Men's Health magazine included Fawcett in its list of the "100 Hottest Women of All-Time".
In 2011, the bathing-suit she wore in her famous 1976 poster was donated to the Smithsonian's National Museum of American History (NMAH). It was formally presented to NMAH by her longtime lifepartner Ryan O'Neal in a ceremony in Washington.
The iconic poster of Farrah in the red swim-suit has served as inspiration for a limited edition Barbie doll.
In her will, Fawcett named the University of Texas as recipient of all her artwork.