Betty Grable (1916-1973) was an actress, singer, dancer and pin-up model. The 42 films that she appeared in during the 1930s and 1940s grossed over $100 million and Grable set a record of 12 consecutive years in the top-10 of box office stars.
Throughout her career, she earned more than $3 million, and in 1946 and 1947, the United States Treasure Department listed her as the highest-salaried U.S. woman. She has a star on the Hollywood Walk of Fame at 6525 Hollywood Boulevard, and another one The Walk of Fame in her native city St. Louis, Missouri.
Grable's break-through performance was in the Broadway musical DuBarry Was a Lady in 1939, which landed her a contract with 20th Century Fox and allowed her to replace Alice Faye in Down Argenine Way (1940), Grable's first major Hollywood film.
Throughout the 1940s, Grable performed in a series of Technicolor musicals that were hugely popular with the moviegoers. She was the No. 1 box-office draw in the world in 1943, and became the highest-paid entertainer in the United States in 1947.
One of Grable's last really big box-office successes was the comedy How to Marry a Millionaire, which premiered in 1953. In 1955, Grable withdrew from her Fox contract and retired from the movie business, focusing instead of television and stage perfomances, including big stage productions in both Las Vegas and on Broadway.
During her time as a Hollywood star, Grable posed for a lot of pin-up pictures and other promotional material, often with a focus on her legs. She was widely celebrated for her long and beautiful legs, and hoistery specialists of the era spoker of them as ideal: thigh 18.5 in / calf 12 in / ankle 7.5 in. As a publicity stunt, her studio took out a $1 million Lloyd's of London insurance policy on her legs, reinforcing the moniker "Million Dollar Legs" which originally came from the unsuccesful B-movie Million Dollar Legs in which Grable had appeared in 1939.
Here are a few pictures of Grable from this era:
Promotional material for the movie Pin Up Girl (1944)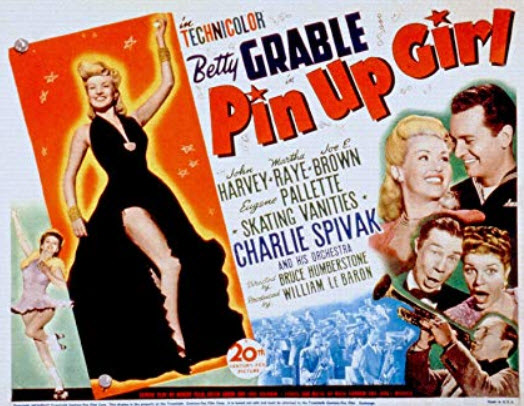 Betty Grabel showing off her legs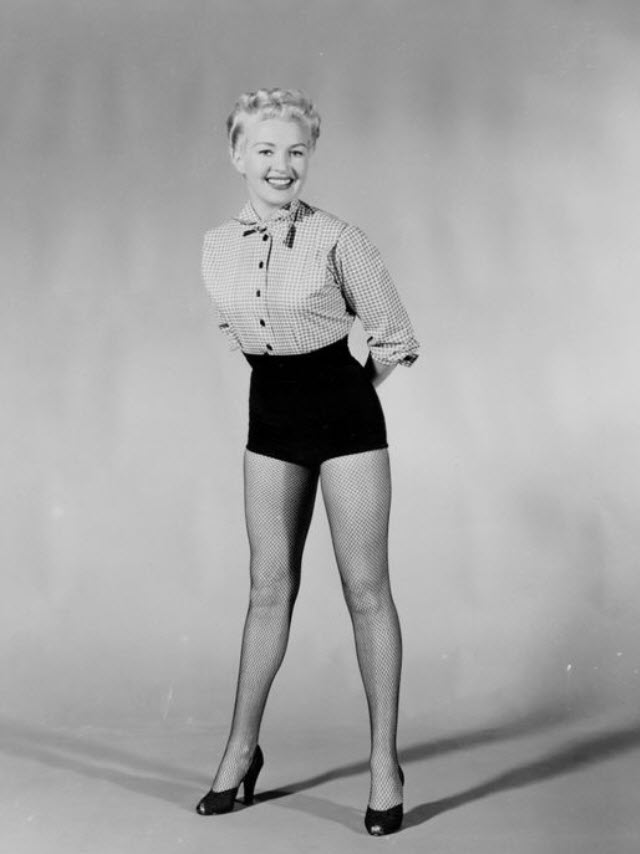 Betty Grabel in a uniform hat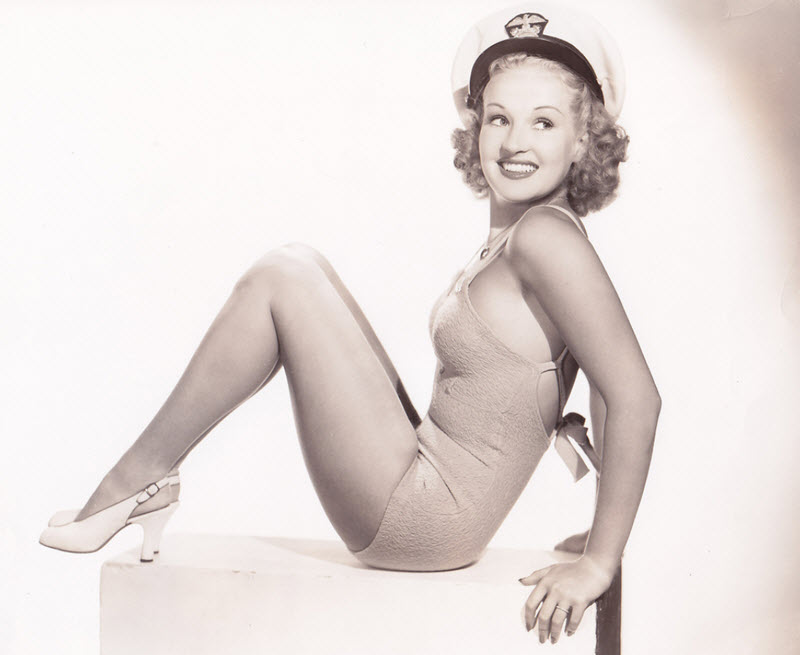 The Million Dollar Legs poster by Frank Powolny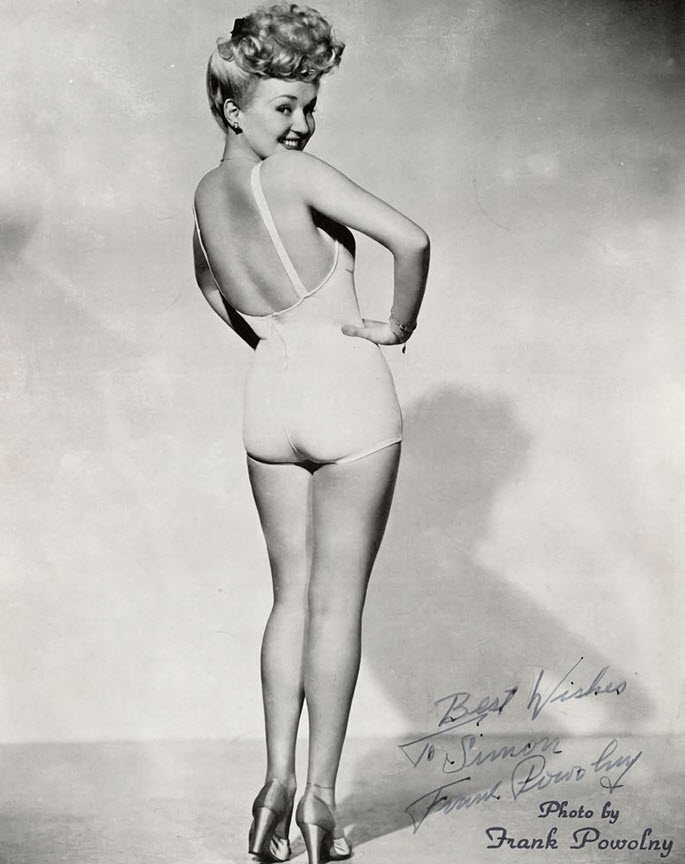 In 1943, Grable had a studio photo session with photographer Frank Powolny. During the shoot, he took several pictures of Grable when she was wearning a tight, one-piece bathing suit that showed off her "million dollar legs". One of the poses used was one where she turned her back to the camera while playfully looking over her right shoulder and smiling. A picture with this particular pose was released as a poster and became the most requested photo for G.I.s stationed overseas during World War II, even surpassing Rita Hayworth's legendary 1941 pin-up photo for Life magazine.
The picture was included in both Life magazine's list of "100 Photographs that Changed the World" and Time's list of the "100 Most Influential Photographs of All Time."
Pin Up Girl (1944)
The 1944 Technicolor musical motion picture, starring Betty Grable, capitalized on her iconic pin-up status and even used the Powolny photo in portions of the movie.
About Betty Grable
Name
Elizabeth Ruth Grable
Stage names
Betty Grable

Frances Dean

Birth
December 18, 1916

St. Louis, Missouri, USA

Professions
Actress

Dancer

Pin-up model

Singer

Professional years
1929-1973

(retired from Hollywood in 1955)

Husbands
Jackie Cogan

Married in 1937, divorced in 1939

Harry James

Married in 1943, divorced in 1965

Children
Victoria Elizabeth James (born 1944)

Jessica James (born 1947)

Death
July 2, 1973 (aged 56)

in Los Angeles, California, USA

Grave site
Inglewood Park Cemetery in Inglewood, California