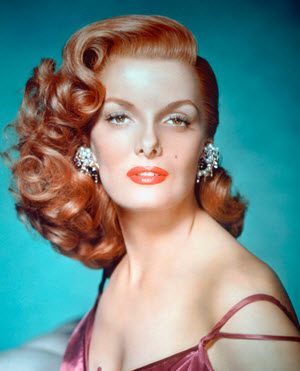 In the 1940s and 1950s, the actress and singer Jane Russell (1921-2011) was one of Hollywood's leading sex symbols. During WWII, her pictures were very popular pin-ups among U.S. servicemen.
When filming her first movie in the early 1940s, the 5 ft 7 in tall Russell measured 38(34D)-24-36 in and was thus significantly taller, and noticeably bustier, than many of the contemporary Hollywood starlets. Later on, Bob Hope – one of Russell's favourite co-stars – once introduced her as "the two and only – Jane Russell".
Russell later spoke out in defence of pin-up pictures, saying that: "Sex appeal is good – but not in bad taste. Then it's ugly. I don't think a star has any business posing in a vulgar way. I've seen plenty of pin-up pictures that have sex appeal, interest, and allure, but they're not vulgar. They have a little art to them. Marilyn's calendar was artistic."
Short facts about Jane Russell
Name
Ernestine Jane Geraldine Russell
Birth
June 21, 1921

in Bemidji, Minnesota, USA

Professions
Actress

Singer

Pin-up model

Professional years
1941-1983
Husbands
Bob Waterfield

Married in 1943, divorced in 1968

Roger Barrett

Married in 1968, he died the same year

John Calvin Peoples

Married in 1974, he died in 1999

Children
3
Death
February 28, 2011 (aged 89)

in Santa Maria, California, USA
Examples of accolades and legacy
In 1955, Russell founded Waif, the first adoption program focused on helping families in the United States adopt children born in other countries.
In 1989, she received the Women's International Center Living Legacy Award.
Russell has a start on the Hollywood Walk of Fame, at 6850 Hollywood Boulevard.
Her handprints and footprints are immortalized at Grauman's Chinese Theatre on the Hollywood Walk of Fame at 6925 Hollywood Blvd.
In 2009, a poll by Glamour (UK) voted Russell one of the 40 Most Iconic Movie Goddesses of all time.
Early life
Ernestine Jane Geraldine Russell was born on June 21, 1921, in Bemidji, Minnesota. Her parents were Roy William Russell and Geraldine Russell, neé Jacobi. Jane was their first child, and she eventually got four younger sibblings – all brothers.
Roy William had been a first lieutenant in the United States Army and Geraldine an actress working in a road troupe. They lived in Edmonton, Canada but went to Bemidji, USA shortly before the birth of Jane. They returned to Edmonton nine days after the birth, and Jane was raised there for the first one or two years of her life (sources vary), before the Russell's relocated to Southern California where Roy William worked as an office manager.
In her youth, Jane Russell took piano lessons, and she also had an interest in teatre and participated in stage production at Van Nuys High School in Los Angeles.
Her father died when he was just in his mid-40s, which made Jane dedice to seek work as a receptionist right after graduation to earn an income. She also modeled for photographers.
Her mother, who herself had been an actor, urged her daughter to study drama and acting with Max Reinhardt's Theatrical Workshop and get coaching from Maria Ouspenskaya.
Motion-picture debute: The Outlaw (1943)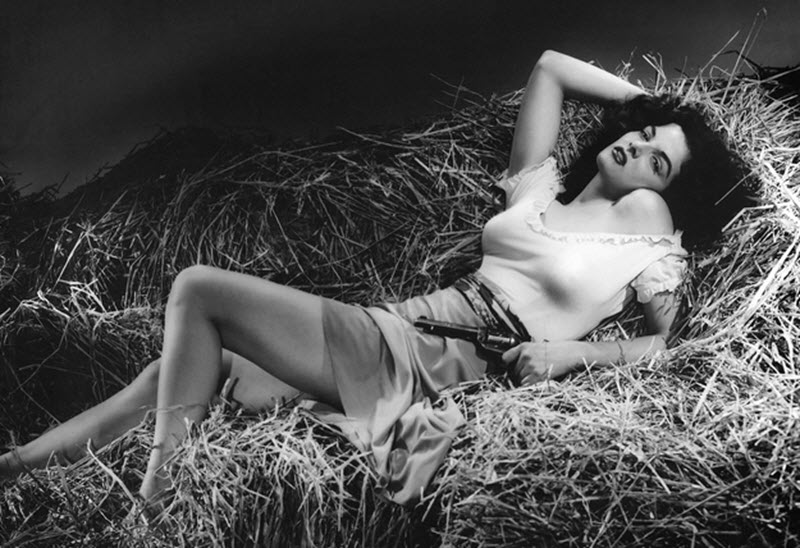 In 1940, Jane Russell signed a 7-year contract with film mogul Howard Hughes. Her first motion-picture was "The Outlaw", a story about Billy the Kid. The movie was completed in 1941, but was considered racy and ran into trouble with the censorship board which delayed the premier significantly. Among other things, Russell's ample cleavage was being too prominently displayed. The movie was finaly released in 1943, but only a limited release. It would take until 1946 before The Outlaw got its general release.
The underwire bra
Howard Hughes designed a special underwire bra for Russell for the filming of The Outlaw, and numerous reports in the media told the story about how she had been wearing it when making the film. In her 1985 autobiography, Russell reveiled that she actually didn't wear the bra. It was so uncomfortable that she secretly wore her own bra instead, padding the cups with tissue and pulling up the straps to lift up the breasts.
The rest of the 1940s
Jane Russel did three more movies in the 1940s: Young Widow (1946) and The Paleface (1948). Montana Belle was shot in 1948, but not released until 1952.
Young Widow was released before The Outlaw got its general release in 1946, so to the public, Young Widow was Russell's debute movie.
In 1947, Russell focused on music, singing with the Kay Kyser Orchestra and recording two singles with it: "As Long As I Live" and "Boin-n-n-g!". She also released the album "Let's Put Out the Lights" for Columbia Records, featuring eight sentimental love songs. The cover of the album was adorned with a photographe of Russell wearing a sheer gown that put more focus on her legs than on her cleavage.
The part of the 1950s when she was under contract with Howard Hughes
Russell recorded the single "Kisses and Tears" with Frank Sinatra and The Modernaires for Columbia in 1950, but the rest of the decade she devoted to her Hollywood career. Howard Hughes bought RKO Pictures, and that's how RKO ended up being Russells main employer.
Russell's contract with Hughes ran until February 1954, and this part of the 1950s was a period when she made a lot of movies; some with RKO and some on loan to other studios.
His Kind of Woman (1951)
Double Dynamite (1951)
The Las Vegas Story (1952)
Macao (1952)
Son of Paleface (1952)
Montana Belle (1952)
Road to Bali (1952; cameo)
Gentlemen Prefer Blondes (1953)
The French Line (1954)
Underwater! (1955)
"His Kind of Woman" (1951) and "Macao" (1952) both did reasonably well at the box office, but had involved so much re-shooting that they nevertheless ended up in the red.
Gentlemen Prefer Blondes (1953)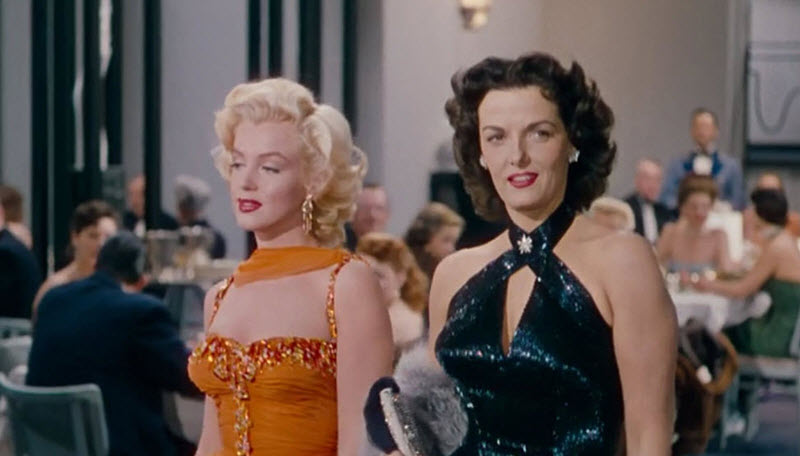 Produced by 20th Century Fox, the 1953 movie "Gentlemen Prefer Blondes", were Russel played opposite Marilyn Monroe, became an enormous success and made over $5 million at the box office.
The French Line (1954)
Produced by RKO, The French Line (1954) was not a critical success, but it still became famous since Russell wore a bathing suit with strategic cutouts while performing a provocative musical number titled "Lookin' for Trouble".
In her 1985 autobiography, Russell explained that Hughes had initially suggested that she should wear a bikini, and that she did wear it in front of the movie crew while feeling very naked. Back then, a bikini could get a movie in serious trouble with the censors, and it was soon replaced with a compromise – a one-piece bathing suit with some parts of fabric strategically removed.
The rest of the 1950s: Russ-Field Productions
In 1953, Russell formed a production company with her husband Bob Waterfield, with whom she had been married since 1943. In March 1954, Russ-Field Productions signed a three-year long six-picture deal with United Artists, where Russell committed to appearing in three of the movies.
This is what Russell's filmography looks for her post-Hughes era:
| | |
| --- | --- |
| Title | Notes |
| Foxfire (1955) | Made by Universal, who borrowed Russell from Russ-Field and paid her $200,000 for the role + the right to use her co-start Jeff Chandler for a film later on with Russ-Field. Foxfire is historically notable in that it was the last United States movie shot in three-strip Technicolor, a process which by then had already been largely replaced by the much less expensive (but also coarser-grained and less chromatically saturated) Eastmancolor single-strip process. |
| The Tall Men (1955) | One of the most popular films of the year |
| Gentlemen Marry Brunettes (1955) | A sequel to "Gentlemen prefer Blondes", starring Russell and Jeanne Crain. Not as successful as its predecessor. |
| Hot Blood (1956) | Made by Columbia |
| The Revolt of Mamie Stover (1956) | Made by Fox. Russell played a role initially meant for Marilyn Monroe. |
| The Fuzzy Pink Nightgown (1957) | This was a box-office failure, but did become profitable in the early 1960s due to frequent television airings. Today, it has become a cult classic and is available on Netflix and Amazon Prime. |
1950s music career
From 1954 and onward, Russell was a part of the gospel quartet. Their choral single "Do Lord" peaked at #27 on the Billboard single chart in May 1954, selling 2 million copies.
In October 1957, Russell debuted in a well-received solo nightclub act at the Sands Hotel in Las Vegas.
In 1959, her self-titled solo LP was released on MGM Records.
Later acting career
Jane Russell appeared in four movies in the 1960s and two in the 1970s.
| | |
| --- | --- |
| Title | Info |
| Fate Is the Hunter (1964) | Cameo appearance by Russell, playing herself in a flashback scene |
| Johnny Reno (1966) | A western movie |
| Waco (1966) | A western movie |
| Born Losers (1967) | The first of the Billy Jack movies |
| The Cauliflower Cupids (1970) | Filmed in 1966, starring Russell, but not released until 1970. |
| Darker than Amber (1970) | A film adaptation of John D. MacDonald's mystery/suspense novel |
Russell's later acting career also included television appearances in shows such as Colgate Theatre, Westinghouse Desilu Playhouse, Death Valley Days, The Red Skelton Hour, The Yellow Rose, and Hunter.
She made her Broadway debut in 1971, playing Joanne in the musical drama "Company" for six months.