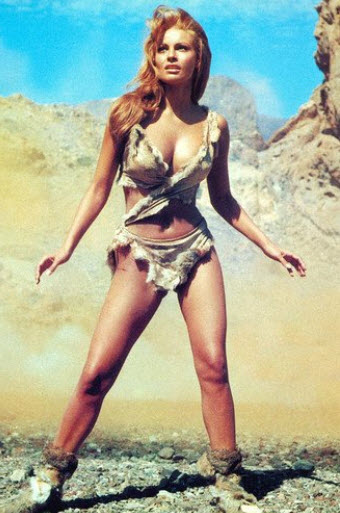 Raquel Welch is an actress and singer. In the field of pin up pictures, she is chiefly known for the legendary promotional movie still of Welch wearing a deerskin binkin in the 1966 film "One Million Years B.C". She only had three lines in the film, but the poster became a best-seller and turned her into a world-famous sex symbol. In their review of One Million Years B.C., The New York Times called Welsh "A marvelous breathing monument to womankind".
Here is Welsh the famous deer-skin bikini, described in promotional material as "mankind's first bikini". The iconic pose of Welch was taken by the unit still photographer.
In 2011, the deer skin bikin was included in the Time's list of "Top Ten Bikinis in Pop Culture".
Welch stated in an interview that three form-fitting bikinis were made for her, including two for a wet scene and a fight secene. The costume designer Carl Toms draped her in doe-skin and then cut the material with scissors while she was wearing it.
About Raquel Welsh
Name
Jo Raquel Tejada
Stage name
Raquel Welch
Birth
September 5, 1940

in Chicago, Illinois, USA

Profession
Actress

Singer

Pin-up model

Professional years
1959 – present
Husbands
James Welch

Married in 1959, divorced in 1964

Patrick Curtis

Married in 1967, divorced in 1972

André Weinfeld

Married in 1980, divorced in 1990

Richard Palmer

Married 1999, divorced in 2008

Children
Damon Welch (born November 6, 1959)

Tahnee Welch (born Latanne Rene Welch, December 26, 1961)
Raquel Welch started appearing in movies in 1964. After her performance in Fantastic Voyage (1966) she landed a contract with 20th Century Fox, who lent her to the British Hammer Studios for One Millions Years B.C, which premier in the UK 1966 and US 1967.
Throughout the 1960s and 1970s, Welch appeared in a long row of movies. Some of the most famous ones are Bedazzles (1967), Bandolero! (1968), 100 Rifles (1969), Myra Breckinridge (1970), and The Three Musketeers (1973). For her perfomance in The Three Musketeers she won a Golden Globe Award for Best Motion Picture Actress in a Musical or Comedy.
Despite often being type-cast as sumissive sex symbol, Welch managed to break the mold and carve out space for herself playing numerous strong female characters.
She focused on TV throughout the 1980s, and was nominated for a Golden Globe Award for Best Actress in Television Film for her performance in the film Right to Die (1987). In the 1990s, Welch returned to the big screen with movie such as Chairman of the Board (1998) and What I did for Love (1998).
After the turn of the mellenium we have been able to see her in movies such as Legally Blonde (2001), Tortilla Soup (2001), Forget About It (2006), and How to Be a Latin Lover (2017).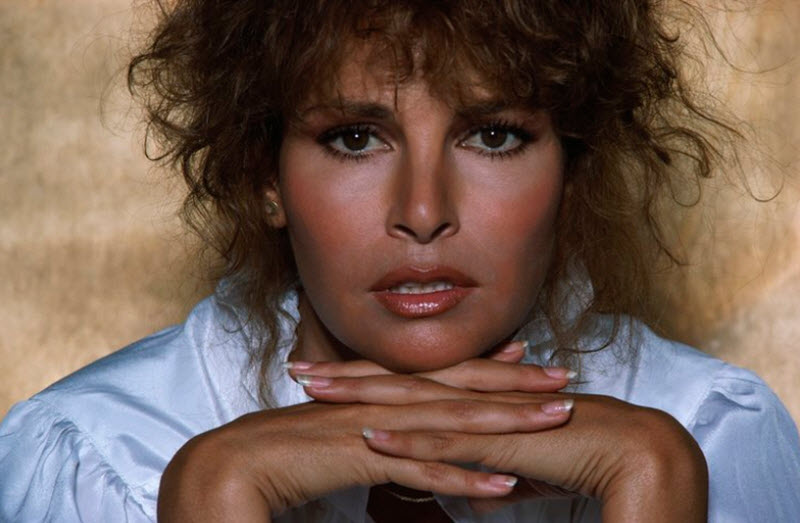 Examples of accolades, legacy and cultural impact
Welch was one of the actresses who helped make big hair trendy.
Playboy ranked Welch No.3 on their list "100 Sexiest Stars of the Twentieth Century".
In 1995, Welch was included in Empire magazine's list of the "100 Sexiest Stars in Film History".
In 2011, Men's Health put Welch on spot No.2 on their list "Hottest Women of All Time".
Her performance in the Western movie Hannie Caulder (1971) has been cited as inspiration for many later revenge films, including Quentin Tarantino's 2003 movie Kill Bill.
The poster of Welch from One Million Years B.C. can be seen on Andy Dufresne's prison cell wall in the movie The Shawshank Redemption (1994). The warden refers to Welch as "Miss Fuzzy Britches".