Veronica Lake (1922-1973) was a stage, movie and television actress, making a majority of her Hollywood movies in the 1940s. She has a star on the Hollywood Walk of Fame at 6918 Hollywood Boulevard.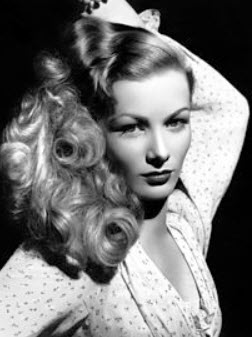 Among Veronica Lake's most highly acclaimed movie performances is the role of The Girl in the 1941 movie Sullivan's Travels. She also appeared as the femme fatal in several film noirs with Alan Ladd, and received acclaim for her role as a suicidal nurse in So Produly We Hail! (1943).
At the peak of her acting career, Lake earned $4,500 a week.
Both on-screen and when she was modelling for publicity shots, she was strongly associated with her signature peek-a-boo hairstyle, where some of her long blone hair fell over her right eye. As the United States got into World War II, Lake was asked by government authorities to change to a more practical and safe hairstyle, to reduce the number of accidents involving women getting their hair cought in machinery. Lake complied, but many of her fans missed her signature look. Nevertheless, she became a popular pin-up girl for soldiers fighting in WWII, and she travelled extensively throughout the United States to raise money for war bonds.
After the war, Lake earned her pilot's license in 1946 to fly the plane she originally purchased for her husband André de Toth. After leaving him, she flew solo between Los Angeles and New York.
In 1970, she released her memoirs Veronica: The Autobiography of Veronica Lake and used the books profits to finance the horror movie Flesh Feast, in which played the mad scientist Dr. Elaine Frederick. This was Lake's last screen role.
Short facts about Veronica Lake
Name
Constance Frances Marie Ockelman

Also known as: Constance Keane

Nickname
Connie
Stage name
Veronica Lake
Birth
November 14, 1922

in Brooklyn, New York City, USA

Education
St. Bernard's School, Saranac Lake, New York State, USA

Villa Maria, Montreal, Quebec, Canada

Miami High School, Miami, Florida, USA

Occupation
Actrees

Pin-up model

Professional years
1939-1954

1966

1970

Husbands
John S. Detlie

Married in 1940, divorced in 1943

Andre DeToth

Married in 1944, divorced in 1952

Joseph Allan McCarthy

Married in 1955, divorced in 1959

Children
Elaine (born in 1941)

Anthony (born in 1943)

Andre Anthony Michael III (born in 1944)

Diana (born in 1948)

Death
July 7, 1973 (aged 50)

in Burlington, Vermont, USA

Grave site
Her ashes were scattered off the coast of the Virgin Islands.
Childhood and youth
Constance Frances Marie Ockelman was born in Brooklyn in 1922. Her father, Harry Eugene Ockelman, worked for an oil company aboard a ship. Her mother was Constance Frances Charlotta, née Trimble. Both Harry and Constance were of Irish descent, with Harry also having German ancestry.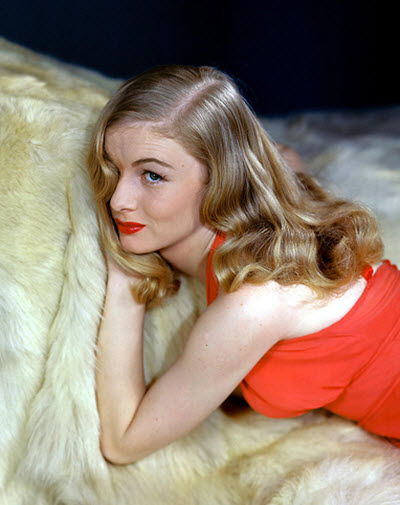 In 1932, Harry Ockelman was killed in an industrial explosion in Philadelphia. The following year, his widow married a newspaper staff artist named Anthony Keane (also of Irish descent). From that on, the young Constance began using her stepfather's surname Keane.
The Keanes didn't live in Brooklyn or even in New York City; they settled in the village Saranac Lake in New York State. There, the young Constance attended St. Bernhard's School, before being sent to Canada to attend the all-girls Catholic boarding school Villa Maria in Montreal, Quebec.
Constance was expelled from Villa Maria, and when her parents moved to Miami due to her stepfather's poor health she came with them and attended Miami High School.
Later in life, Veronica Lake would claim that she had taken a premed year-long course at McGill University before her acting career, with plans to become a surgeon. The lie was included in several press biographies. Eventually, Lake announced that it was a lie and apologized to the president of McGill, who was rather amused by whole thing.
Film career
Before Victoria Lake
In 1938, the Keanes family moved to Beverly Hills, California.
The teenaged Constance Keane got a brief contract with MGM and enrolled in the Bliss-Hayden School of Acting, where MGM were cultivating promising young talent. (Today, the school is called The Beverly Hills Playhouse.)
As Constance Keane, she appeared in the stage plays and as an extra in movies. In the RKO film Sorotity House (1939), she had a small role as a student, but the part wound up being cut from the final version of the movie.
Forty Little Mothers (1940) was the first movie where Constance Keane let her hair down on screen.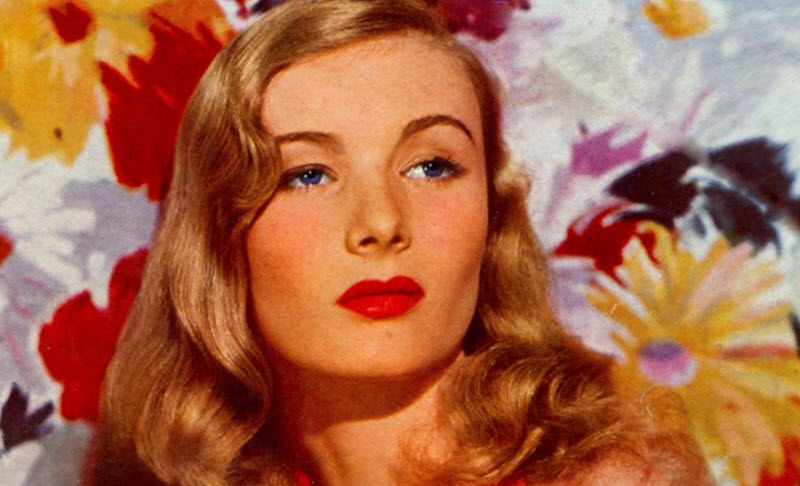 Becoming Veronica Lake
A test scene of Constance Keane caught the attention of producer Arthur Hornblow Jr, who was looking for an actress to play the part of a nightclub singer in the military drama I Wanted Wings (1940). He casted Keane for the role, and gave her the stage name Veronica Lake. According to Hornblow, her stage name was inspired by the look of her eyes "calm and clear like a blue lake".
It was while working with I Wanted Wings that Veronica Lake developed her signature peek-a-boo hairstyle. She wore her long blonde hair down during a take, and it accidentally fell over her right eye, creating the peek-a-boo effect. In the scene, her character was drunk. Lake rested her arm on a table and slipped, and this is what caused her hair to fall over parts of her face.
I Wanted Wings became a smash hit, and Lake's hairstyle garnered a lot of attention and was widely copied by women both domestically and abroad.
First starring role
Veronica Lake's first starring role was in Sullivan's Travels (1941) where she played against Joel McCrea. Lake, who had gotten married motion picture art director John S. Detlie in 1940, was six months pregnant when filming began, and did not disclose her pregnancy to the dirctor Preston Sturges until filming began.
The movie was not as immediately successful at the box office at as previous Sturge films, and it
received mixed critical reception. The Hollywood Reporter and The New Yorker wrote scathing reviews, while The New York Times called it "the most brilliant picture yet this year". Times also named it as one of the best films of 1941, and the National Board of Review nominated it as best picture of the year. Over time, the reputation of the film has improved even more, and it is now considered a classic.
Film noir with Alan Ladd
In the thriller This Gun for Hire (1942), Robert Preston was cast as Veronic Lake's love interest, but she had more scenes with Alan Ladd and the audience loved the chemistry between them. This led to Lake and Ladd having lead roles against each other in three more movies in the 1940s, including The Glass Key (1942). We can also see Lake and Ladd in cameo roles in the all-star Paramount movie Star Spangled Rhythm (1942).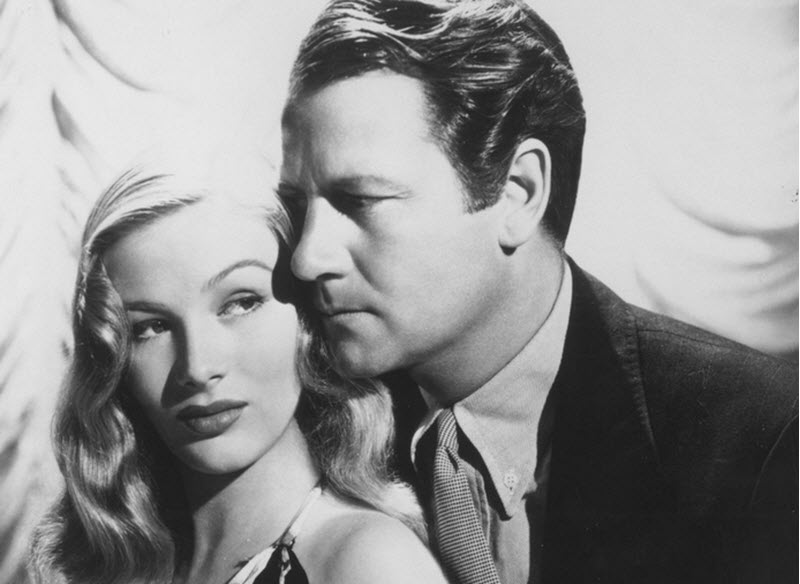 Career decline
By the late 1940, Lake's career began to faulter, partly because of her alcoholism and her reputation of being difficult to work with. In 1948, she and Paramount parted ways, and she signed with 20th Century Fox for a supporting role in Slattery's Hurricane (1949), a movie directed by her second-husband, Andre DeToth.
In the 1950s, she only appeared in one movie, Stronghold (1951). This was an American-Mexican historical film produced by the small studio Lippert Pictures. Lake and several other members of the cast later sued Lippert for unpaid wages. Also, Lake and her husband filed for bankruptcy in 1951, and the IRS eventually seized their home for unpaid taxes. Lake left DeToth and moved back to New York.
Lake performed in summer stock theatre productions and had some stage roles in England. In 1955, she made headlines by collapsing in Detroit, where she had been performing in the play The Little Hut.
In 1966, Lake returned to the silverscreen with the role Therese in the low-budget independent Canadian thriller Footsteps in the Snow.
Her last movie was the horror flick Flesh Feast (1970), where she played the mad scientist Dr. Elaine Frederick.