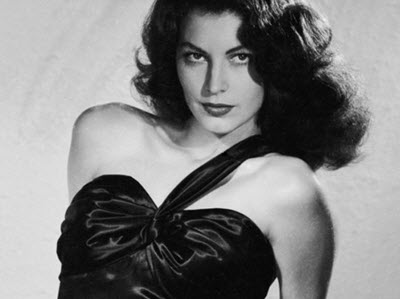 Ava Gardner (1922-1990) was an actress and singer who also featured in a lot of popular pin-up pictures. From the 1940s to 1970s, she appeared in many high-profile Hollywood films, and she is included in the American Film Institute's list "25 Greatest Female Stars of Classic Hollywood Cinema".
MGM's publicity office put out a lot of images of Ava Gardner as promotional material for their movies; sometimes for movies in which she hardly even had a role. She also posed for a lot of "leg art" (pin-up pics) which MGM mass-printed for generalized publicity campaigns.
Short facts about Ava Gardner
Name
Ava Lavinia Gardner
Birth
December 24, 1922

in Grabtown, North Carolina, USA

Education
Rock Ridge High School

Atlantic Christian College

Occupation
Actrees

Singer

Pin-up model

Professional years
1941-1986
Husbands
Mickey Rooney

Married 1942, Divorced 1943

Artie Shaw

Married 1945, Divorced 1946

Frank Sinatra

Married 1951, Divorced 1957

Death
January 25, 1990 (aged 67)

in Westminster, London, England

Grave site
Sunset Memorial Park, Smithfield, North Carolina, USA
Early life
Ava Lavinia Gardner was born in the countryside, near the farming community Grabtown in North Carolina in 1922. As the youngest in a family with seven children, Gardner had four older sisters and two older brothers. Her parents Jonas Bailey Gardner and Mary Elizabeth (called Molly) Gardner, neé Baker, were poor farmers growing cotton and tobacco. Molly Gardner was a Baptist and Ava was raised in that faith.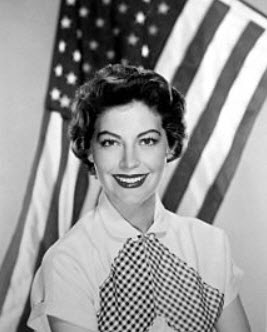 While Ava was still a young child, the family lost their farm. Jonas found a job at a sawmill, while Molly started working at a dormitory for teachers at the nearby Brogden School, where she was both cook and housekeeper.
Move to Newport News, Virginia
When Ava was 7 years old, the family left the countryside and moved to the city Newport News in Virginia. In the city, Molly was hired to manage a boarding house for shipworkers.
Move to Rock Ridge, North Carolina
In 1938, when Ava was 15 years old, her father Jonas died from bronchitis. After his death, the family moved back to North Carolina, where Molly ran a boardinghouse for teacher in Rock Ridge, near Wilson.
In 1939, Ava graduated from Rock Ridge High School. She then took secretarial classes at Atlantic Christian College in Wilson for about a year, before she left for a career in Hollywood.
Signed to the MGM
In 1941, while still living in North Carolina, Ava Gardner visited her sister Beatrice in New York City. Beatrice was married to the professional photographer Larry Tarr, who photographed his sister-in-law and displayed her portrait in the front window of his Tarr Photography Studio on Fifth Avenue.
Her portrait caught the attention of a legal clerk named Barnard Duhan, who worked for Loews Theatres. At the time MGM was a subsidiary of Loews, and Duhan would exploit this fact to pose as an MGM talent scout. He tried this trick to get Ava Gardner's phone number, but the receptionist at the Tarr's studio refused to give it to him. Duhan then commented that "Somebody should send her info to MGM", and that was what the Tarrs did.
At this point, Gardner had already returned to North Carolina, but she returned to New York City when to be interviewed by Al Altman, head of MGM's New York talent department. The interview included filming a sequence where Gardner was instructed to walk towards the camera, turn and walk away, and re-arrange some flowers in a vase. Her Southern accent was so thick that Altman had difficulties understanding her, and he didn't even attempt to record her voice.
Later on, Louis B. Mayer, head of the studio, sent Altman a telegram: "She can't sing, she can't act, she can't talk, she's terrific!"
Ava Gardner signed a standard contract with the MGM and moved to Hollywood in 1941, accompanied by her sister Beatrice. In Hollywood, MGM assigned her a speech coach.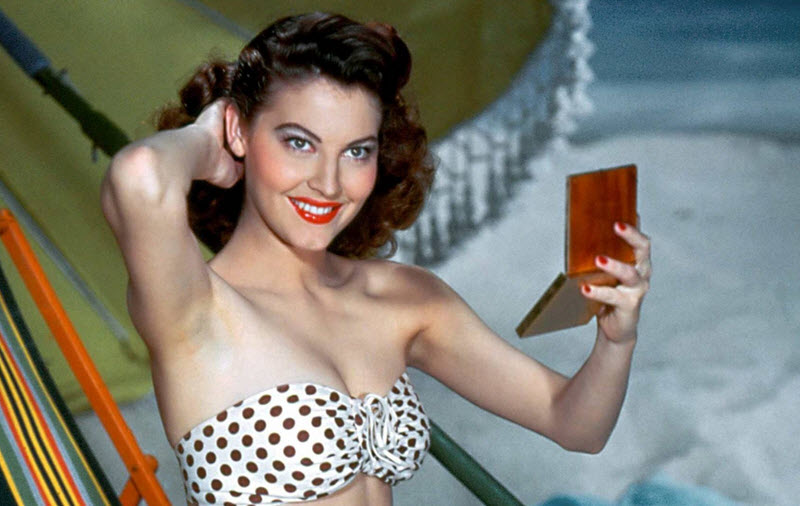 Break-through role
After five years of playing bit parts, many of them uncredited, Gardner was casted to play the femme fatale Kitty Collins in the film noir "The Killers". The movie, which permiered in 1946, became a huge hit and proved to be Gardner's big break in Hollywood.
1940s movies after The Killers
| | | |
| --- | --- | --- |
| Year | Title | Role |
| 1947 | Singapore | Linda Grahame/Ann Van Leyden |
| 1947 | The Hucksters | Jean Ogilvie |
| 1948 | One Touch of Venus | Venus |
| 1949 | The Bribe | Elizabeth Hintten |
| 1949 | The Great Sinner | Pauline Ostrovsky |
| 1949 | East Side, West Side | Isabel Lorrison |
The 1950s
Some of the most notable films that Ava Gardner appeared in during the 1950s were Show Boat (1951), The Snows of Kilimanjaro (1952), Mogambo (1953), The Barefoot Contessa (1954) , Bhowani Junction (1956), The Sun Also Rises (1957), and On the Beach (1959).
Mogambo was a massive hit, and Gardner was nominated for an Academy Award in the category Best Actress in a Leading Role. The film was also nominated for a BAFTA Award for Best Film.
Gardner also received a lot of praise for her role as the Maria Vargas in The Barefoot Contessa, where she starred alongside Humphrey Bogart. Saturday Review called her "one of the most breathtaking creatures on earth".
Movies in the 1950s
| | | | |
| --- | --- | --- | --- |
| Year | Title | Role | Awards and nominations |
| 1951 | Pandora and the Flying Dutchman | Pandora Reynolds | |
| 1951 | My Forbidden Past | Barbara Beaurevel | |
| 1951 | Show Boat | Julie LaVerne | |
| 1952 | Lone Star | Martha Ronda | |
| 1952 | The Snows of Kilimanjaro | Cynthia Green | |
| 1953 | Knights of the Round Table | Guinevere | |
| 1953 | Ride, Vaquero! | Cordelia Cameron | |
| 1953 | The Band Wagon | Herself | |
| 1953 | Mogambo | Honey Bear Kelly | Nominated – Academy Award for Best Actress |
| 1954 | The Barefoot Contessa | Maria Vargas | |
| 1956 | Bhowani Junction | Victoria Jones | Nominated – BAFTA for Best Foreign Actress |
| 1957 | The Little Hut | Lady Susan Ashlow | |
| 1957 | The Sun Also Rises | Lady Brett Ashley | |
| 1958 | The Naked Maja | Maria Cayetana, Duchess of Alba | |
| 1959 | On the Beach | Moira Davidson | Nominated – BAFTA for Best Foreign Actress |
The 1960s
Gardners last major leading role in a critically acclaimed film was in "The Night of the Iguana" (1964), a movie based on a play by Tennessee Williams and directed by John Huston. In this film, which was shot in Mexico, Gardner played alongside Richard Burton and Deborah Kerr. She was billed below Burton but above Kerr. For her performance, Gardner was nominated for a BAFTA and a Golden Globe Award, and she won the Prize San Sebastián for best actress.
Towards the end of the 1960s, Ava Gardner moved to London, England.
Movies in the 1960s
Year
Title
Role
Awards and nominations
1960
The Angel Wore Red
Soledad
1963
55 Days at Peking
Baroness Natalie Ivanoff
1964
Seven Days in May
Eleanor Holbrook
1964
The Night of the Iguana
Maxine Faulk
Nominated – BAFTA for Best Foreign Actress

Nominated – Golden Globe for Best Motion Picture Actress – Drama

Awarded the Prize San Sebastián for Best Actress

1966
The Bible: In the Beginning…
Sarah
1968
Mayerling
Empress Elizabeth
The 1970s
In the 1970s, Gardner appeared in several distaster movies, such as Earthquake (1974), The Cassandra Crossing (1976) and City on Fire (1979).
Movies in the 1970s
| | | |
| --- | --- | --- |
| Year | Title | Role |
| 1970 | Tam-Lin | Michaela Cazaret |
| 1972 | The Life and Times of Judge Roy Bean | Lily Langtry |
| 1974 | Earthquake | Remy Royce-Graff |
| 1975 | Permission to Kill | Katina Petersen |
| 1976 | The Blue Bird | Luxury |
| 1976 | The Cassandra Crossing | Nicole Dressler |
| 1977 | The Sentinel | Miss Logan |
| 1979 | City on Fire | Maggie Grayson |
The 1980s
In the 1980s, Gardner acted primarily on television, such as the mini-series remake of The Long, Hot Summer (1985) and the CBS prime time television soap opera Knots Landing (also 1985).
Her last movie was Regina Roma, which premiered in 1982.
Gardner worked as an acress until 1986, four years before her death in 1990 (aged 67).
Movies in the 1980s
| | | |
| --- | --- | --- |
| Year | Title | Role |
| 1980 | The Kidnapping of the President | Beth Richards |
| 1981 | Priest of Love | Mabel Dodge Luhan |
| 1982 | Regina Roma | Mama |
Television in the 1980s
Year
Title
Role
Type
1985
A.D.
Agrippina
Miniseries
1985
Knots Landing
Ruth Galveston

(in 7 episodes)

Prime time soap opera
1985
The Long Hot Summer
Minnie Littlejohn
Television film
1986
Harem
Kadin
Television film
1986
Maggie
Diane Webb
Television film